500 Words and Turner Contemporary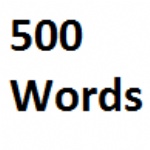 Your child will bring home the application forms
8th February 2018
Dear Parents
Short of ideas for things for the children to do over the half-term holiday? We thought we would let you know about two exciting competitions that look tailor-made for WJS's creative children.
BBC2's 500 words short story competition – championed by Chris Evans – is now open for entries. It is open to young people aged between 5 – 13 years and there are two age categories: 5 – 9 years (by 8th June 2018) and 10 – 13 years (by 8th June 2018). See http://www.bbc.co.uk/programmes/articles/4h26FXFQ4KfMV7VVSbJxY3g/500-words-2018 for more information.
Entries must be submitted on line, via an online entry form available at www.bbc.co.uk /500words by an adult (parent, guardian or teacher). The 500 word limit is strict and no entries exceeding this will be accepted. Only one entry per child is permitted and all stories must be entirely the child's work. Judging – by teachers and librarians from across the UK – will look at originality, plot, characterisation, language features and enjoyment. All entries must be fictional, but children are permitted to feature well-known public figures.
If your child wishes to enter, and wishes the school to submit an entry on their behalf, we will need you to complete the form overleaf and return the story to school, (preferably by email, with your child's name and age clearly indicated, as, depending on quantity, there may not be time for us to retype before submitting (manager@whitstable-junior.kent.sch.uk), by Monday 19th February 2018. Please make sure that you check terms and conditions on line when you sign the form; we will be asked to provide evidence of parental consent. If your child enters independently, do please let us know as we would love to celebrate their efforts. The deadline for entries is Thursday 22nd February 2018, 19:00 hours.
Turner Contemporary's annual 'Portfolio' competition is open to all students, pupils and teachers/support staff in Kent and Medway. This year's theme is 'Art, Animals and Us' and seeks to explore our relationship to the animal world. Art works can be in any medium and of any size; children can use painting, drawing, digital design, film, sculpture, textiles or collage but may only submit one entry. There's lots of helpful information, including question prompts to help develop ideas, on the Turner website (www.turnercontemporary.org/portfolio ).
All entries need to be uploaded onto the Turner Contemporary website from a scan (JPG, TIFF or PNG, no bigger than 5MB and no lower than 300dpi), or high resolution digital photograph – where they will form part of a virtual gallery - and we are happy to do this from the school, providing we receive entries in good time. So, if your child would like to enter via the school we ask that they bring their work into school by the end of the week beginning 19th February 2018. (Please mark them for the attention of Mrs Fry and include a completed copy of the slip overleaf.)
Kind Regards
Mrs Fry