Ready, Steady, Cook!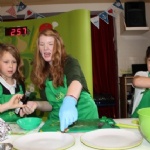 The whole school enjoyed watching two teachers and their teams take part in the Ready, Steady Cook! Roadshow just before Christmas.
An initiative run by Chartwells who provide our school dinners, the Roadshow taught the children all about healthy eating and a balanced diet and then gave 'Celebrity Teachers' the chance to show how well they could (or could not!) cook up a recipe that had been part of the demonstration.