Anti-Bullying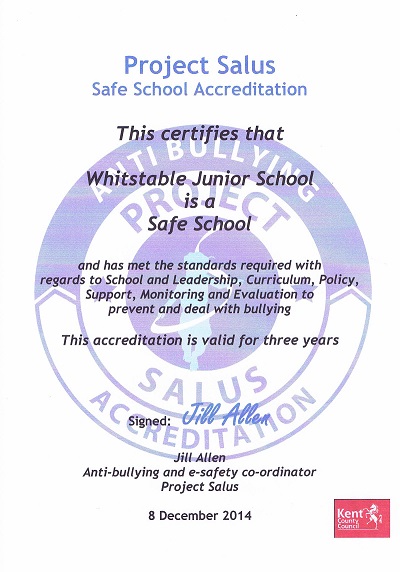 NEWS RELEASE
Whitstable Junior School gets top anti-bullying award

Monday, December 8, 2014
Whitstable Junior School has received top award for its efforts to stamp out bullying. The school was praised for its zero tolerance to bullying and demonstrating that children have a clear understanding of what bullying is and how to prevent it. The school has been awarded Safe School Anti-bulling Accreditation, a national award that recognises best practice in anti-bullying work and pupil wellbeing.
The award was presented to the school by Project Salus and the organisation's Jill Allen, said: "We were really happy when we looked at the evidence of the work carried out by the schools staff, pupils and parents to prevent and deal with bullying. Whitstable Juniors met every one of the awards criteria, which is in line with what Ofsted would expect from an outstanding school"
Mrs Allen praised the work of the schools wellbeing team, its e-safety program, the playground Game Zone and that the whole school is a 'No put down zone'
Headteacher Gill Moody said,
We are delighted to have been accredited with this award for the second time. Whitstable Junior School works hard to create a safe environment for its children, to promote an ethos where well-being is valued and where our children are able to be part of a clear anti-bullying approach. It is fantastic for the whole school community's work on anti-bullying and well-being to be recognised through a national award such as this.
The Safe School Anti-bullying Accreditation is a nationwide award that originated in Kent. Project Salus have worked with over 350 Schools to support gaining 'Safe School' Anti-bullying Accreditation through training, policy development and information.
About Project Salus
Project Salus have been leading Anti-Bullying work in schools across Kent since 2006, and working Nationwide since 2011 we are members of the Anti-bulling Alliance and Restorative Justice Council.
For further information contact Jill Allen on: 07739 858239 or 01303 817470
email jill.allen@projectsalus.co.uk Website:www.projectsalus.co.uk
A copy of our Anti-Bullying Policy can be seen from following the link below.