PE Information
A healthy mind in a healthy body is a priority for every child, and at Whitstable Junior School our Physical Education curriculum helps every child achieve these goals.
Our aim is to encourage a lifelong involvement in 'sporting' activities. These can range from traditional sports such as football, netball and hockey to Zumba dancing that provides the most awesome workouts ever.
We enjoy success in competitive sports at local and county level but our wide range of extra-curricular activities aim to provide something for everyone. For us, lifelong enjoyment in a variety of physical activities has the same importance as lifelong learning, both must be ongoing, self-motivated and, above all, enjoyable.
Physical Education Curriculum
Children at Whitstable Junior School participate in two hours of planned physical education each week.
Each year group will undertake 2 units of Physical Education per half term. This ensures that a wide range of physical skills are taught. Physical Education is assessed through a series of core skills activities which are undertaken at the beginning and end of each unit.
Below is our Long term Plan for PE.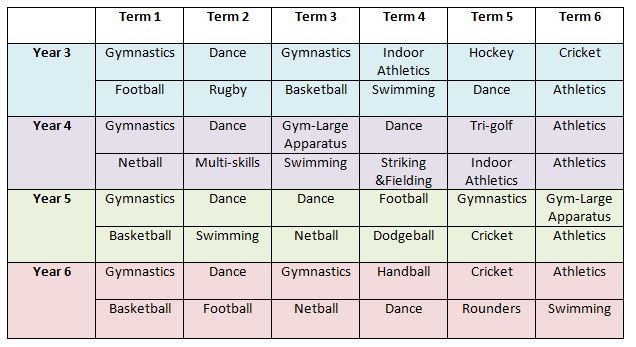 PE Kit- Boys and Girls
All children should have an outdoor and an indoor PE kit with them in school every day. To support us with teaching your child PE, please can you make sure your child has the correct PE kit, all clearly labelled with their name, in a bag. This will help us to avoid getting PE kits mixed up. Their PE kit needs to be sent into school at the beginning of the half term then it will be sent home by the teacher at the end of the half term to be washed.
In your child's PE kit, they should have the following items;
-Polo shirt in house colour and black shorts
Wolfe-Green
Marlowe-Red
Beckett-Blue
Caxton-Yellow
-Black or white plimsolls (Trainers may be worn for outdoor PE/Games sessions)
-Sweatshirt in House colours (optional but recommend)
-Black jogging bottoms for winter only.
-PE bag large enough to contain all of the above!